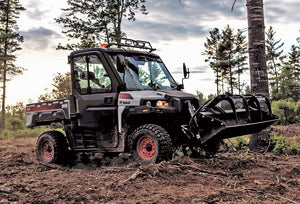 UTV VS. ATV
If you're in the market for a do-it-all machine, a utility vehicle (UTV) might be the best option for you. A balance of comfort, power and maneuverability make utility vehicles the superior choice.
While it's possible to get around your jobsite or property with an all-terrain vehicle (ATV), utility vehicles offer benefits that give them a leg up on the ATV. So what's the difference between an ATV and a UTV? Read on to find out.
WHAT IS A UTV?
UTVs are popular vehicles for transporting employees, hauling cargo or pulling a trailer with supplies. Utility vehicles typically have four to six wheels, include seating with seat belts for up to six passengers and are available in diesel or gas engine configurations. Whether you're managing your personal property or working on your jobsite to meet a tight deadline, utility vehicles are perfect for taking on demanding tasks.
WHAT IS AN ATV?
An ATV (also known as a quad or a four-wheeler) is a four-wheeled vehicle with handle bar steering and straddle-style seating for one to two riders. The handle bar steering makes ATVs more physically demanding to operate, because it requires more of your body to steer and control the vehicle. Due to their smaller size and lack of a utility trailer, ATVs are ideal for off-roading or other recreational activities.
UTV VS. ATV LOAD CAPACITY
Bobcat utility vehicles offer a much greater load capacity than ATVs, as well as a large rear cargo area. They also have a higher commercial rating than ATVs – and you can use the cargo box to carry more supplies, tools and materials. ATVs do not come standard with a trailer or cargo area, so they must be purchased separately if additional hauling capacity is required.
UTILITY VEHICLES OFFER MORE ROOM TO ROAM
A UTV offers more legroom and foot room so everyone enjoys a comfortable ride. The modular cab option ensures you'll be prepared no matter the weather. This cab system gives you the power to pick the best configuration for your working conditions. Just choose the components you need and leave off the rest.
Due to an ATV's motorcycle-style seating, this vehicle does not come with a cab. So while an ATV is great for off-roading, it offers little in the area of operator and passenger comfort.
UTV OPTIONS AND ACCESSORIES
UTVs are highly customizable. Options and accessories like heating and air conditioning, windshield wipers, brush guards and other popular choices protect the vehicle, provide additional operator comfort and allow you to accomplish more tasks when compared to an ATV.
If you think a utility vehicle is the right choice for your work, contact us to find the best UTV model for you.
---